Gomez Continues Keeping the Phillies in the Playoff Hunt
It was February when spring training was on the calendar and pitchers and catchers reported to Clearwater to start their workout programs. The Phillies were coming off of an offseason where they dealt, what appeared to be, their young "closer of the future" Ken "100 mile" Giles for a package of young talent. The Phills were in the Sunshine State, ready to kick off spring training, and didn't have any obvious answer for the 9th inning.
The previous season, after the Giles trade, middle reliever Louis Garcia was given the nod to close games with the expectation that he would show enough to cement the job for himself. Garcia didn't take advantage of his opportunity and, ultimately, he was sent packing. This left the Phillies with a decision they weren't expecting to have to make. That problem of a "less than desirable bullpen rotation" may have ended up being a blessing in disguise.
The Skipper, Pete MacKanin, turned to "option #2" handing the ninth inning ball to Jeanmar Gomez.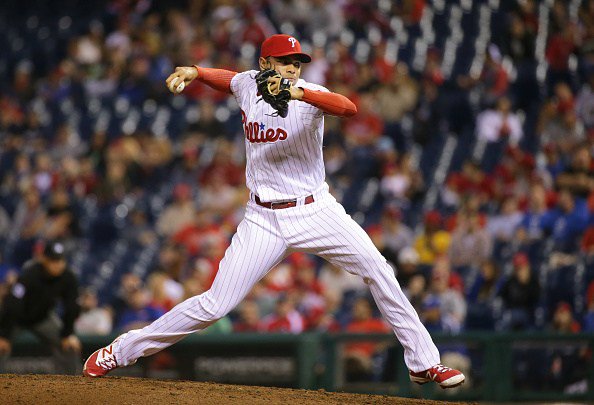 The 28 year old Gomez is a 6'3 215b native of Caracus, Venezuela. He began his journey to the MLB after signing as an amateur by the Cleveland Indians in 2005, making his Indians debut July 18th 2010 when he got the call to start against division rival Detroit Tigers. Gomez spun a 7 inning gem allowing only 5 hits and 1 walk, 4k's and 0 earned runs in the win. He continued to bounce around in the Cleveland system until January of 2013 when he was traded to the Pirates for low level prospects.
A little over a year later, in November of 2014 Gomez was granted free agency and signed with the Phillies. Until now, Gomez has been primarily used out of the pen pitching the 7th or 8th inning. Now, he is the man at the back of the bullpen tasked with nailing down the win opportunities the Phillies present him with. With Gomez having so far exceeded expectations, the Phillies currently find themselves sitting (as of this writing) only 2 games behind the first place Nationals.
Jeanmar Gomez leads MLB w/ 16 saves

Hector Neris leads MLB w/ 11 holds

Neris (33) & David Hernandez (30) lead NL relievers in strikeouts

— Corey Seidman (@CoreySeidmanCSN) May 18, 2016
He's off to a stellar start, leading baseball with 16 saves (blowing just 1), a 2.66 era, 6 walks, 2 Hr that led to 7 runs, all earned, and 17 strikeouts in 23.1 IP.
For a closer to have 17 strikeouts, is not your typical number of k's for your ninth inning pitcher. For example, other players such as Yankees Andrew Miller checks in at 16.7 k's per 9. Redsox' Craig Kimbrel is second at 14.5 per nine, DOUBLE Gomez's 6.5 per nine innings pitched. Gomez is obviously not over powering batters with his velocity.
You may be asking "how is he doing it?" He's finding outs by being deceptive with his pitches, hitting his location, and trusting the players in the field behind him. Can he manage to keep this pace up? Gomez, as pointed out, is not your typical closer: a pitcher that will blow you away fastball and usually just one secondary pitch. Gomez's experience as a starter gives him a FOUR pitch repertoire, he has relied primarily on his Sinker using a Two-seam Fastball grip (92mph), Fourseam Fastball (94mph), and Change (84mph), also mixing in a Slider (84mph). He can also throw his fastball similar to a cutter and for what it's worth, on rare occasions, he'll throw a Splitter (87mph).
When pitchers have a sinker in their holster it's usually because they lack the power fastball. This certainly holds true in Jeanmar's case. A contributing to Gomez's success is the leather behind him as he pitches to contact. So "can it last?" We shall see.
The other part of Jeanmar exceeding expectations is the salary aspect. Right now, Gomez is on the extreme cheap but at the season's end he's eligible for salary arbitration and looking at a big bump in pay from the $1.4 million he's on books for. The problem with that is, in my opinion, closers seem to come and go all the time. They seem to go from posting an outstanding year to a season where it looks like the player had never seen the mound before.
The danger is that the Phillies may end up in a spot where they may be paying Gomez, who (most likely) will be maybe the team's lone all-star, for what he did and not what he's going to do. The team CANNOT AFFORD to end up making the same mistake they did with Jonathan Papelbon. The Phills brass may need to resist the temptation to overpay the young closer. Gomez isn't able to hit his first free agency pay day until 2018. It will be interesting to see how Matt Klentak and the new Phillies front office handle Gomez going forward in the "dollars and cents" department.
It's almost the end of May and things are 180 degrees different than this time last year. It seemed as if, from the first pitch last year, the team was cooked. You knew there was nothing to see until the September call ups started. Even then, the Phillies were so far behind it was hard to watch. The way they were losing games last year was stomach-turning for fans.
It seems so far this year that the fans have been dealt a full house! Its fun to watch again! Can this group of young players keep the momentum going?
4½ months will tell … Stay tuned!