Weekly Fantasy Football Preview – Week 3
Updated: September 22, 2016
Wowzer.  In terms of injuries, this past weekend was one for the books.  If you managed to come out of the weekend unscathed, well done.  If you had more ACL tears in your lineup than touchdowns, chin up.  You live to fight another day.  If you follow the column, we hit pretty big with our plays last week, so let's keep it going.  Without further ado … Week 3.
QUARTERBACKS
RYAN TANNEHILL ($6200)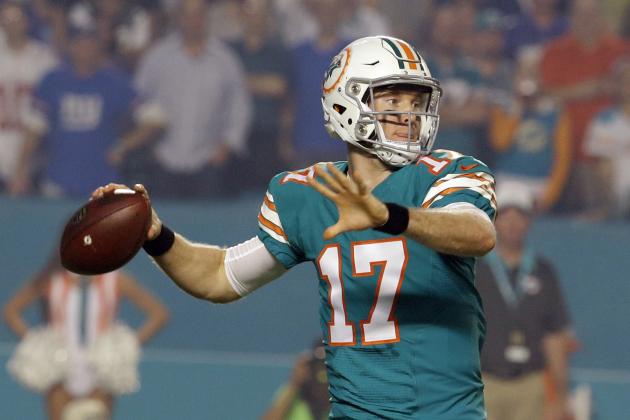 Fresh off 389 yards passsing with 2 TDS and 6 rushes for 35 yards against the Pats, this weekend he plays host to the Cleveland Browns, who I'm told are a real NFL team, but I have to find any video evidence of such a claim.  Cleveland, through the first 2 weeks, is giving up 286 yards through the air, 107 yards on the ground and 26 point a game.  That just sounds delicious.  With Arian Foster on the shelf for a few weeks, the Fins are going to roll out some combination of Jay Ajayi and Kenyan Drake, who will put up respectable numbers, but that will be when the game is well out of hand and Miami is in clocking killing mode.  280 yards passing, 2 passing TD, 1 rushing TD.
AARON RODGERS ( $7700)
R-E-L-A-X.  Uninspiring through the first 2 weeks, this is the homecoming party for the Pack this weekend, as the play their first home game of the young season.  The timing has just been off by thismuch, and playing in front of the home crowd will surely help.  This week the Pack takes on the Lions, who are giving up 296 passing yards a game.  With an Over/Under of 47.5, your Red Zone channel will be on overdrive with this game.  Rodgers is a little more expensive than I would prefer, but I think that is going to work in our favor this week.  His slow start coupled with a high end salary, his ownership is going to be crazy low this week.  Great tournament play here.  330 yards 2 TD.
WIDE RECEIVERS
JARVIS LANDRY ($6600)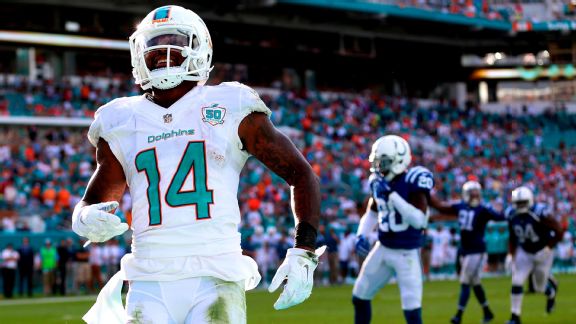 I know what you're saying…But Joel, didn't you yell at us last week to not chase last weeks' stats?!  I wouldn't exactly call it yelling, but yes, I did give you some sage, cautionary advice last week. And for all of you that listened and didn't play anyone from the Saints/NYG game, you are very welcome.
This has nothing to do with last weeks's stats, however, even though Jarvis had a very Jarvis-y game, catching 10 balls for 137 yards last week against the Pats. This is more about a terrible Cleveland defense than chasing last weeks' stats.  I have you once, I've told you a million times, double and triple stacks are the key to success in DFS.  I'm going all triple stack with the Dolphins this week, starting with the cheap-o prices of Tannehill and Landry (keep reading for the 3rd layer of the stack). With the uncertainty of the running game in Miami, this ball control offense will operate through this former LSU standout.  He finds pay dirt for the first time this season.  110 yards 1 TD.
T.Y. HILTON ($6800)
Another stud having a slow start to the 2016 campaign, T.Y. only caught 4 of his 11 targets last week for 41 yards, but that was against the juggernaut Denver defense.  He has yet to top 80 yards in a game this season.  But his week he gets the Chargers, who are giving up 326 yards through the air this season.  He 's at home.  The Colts are going to be without Donte Montcrief for a few weeks.  T.Y. is already averaging 11.5 targets a game.  Without Montcrief, he could see upwards of 15 balls thrown his way this week.  Oh, and Mr. Hilton is taking the blame for the Colts 0-2 start and has guaranteed that he will "make big plays" this week.  When T.Y. talks, I listen.  145 yards 1 TD
RUNNING BACKS
MELVIN GORDON ($5800)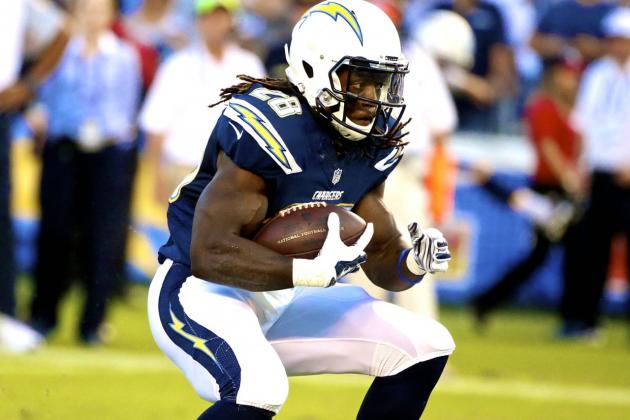 After being left for dead after a disappointing rookie year, Melvin is back in the spotlight again.  He's got 3 TD in 2 games.  He had 24 carries for 102 yards and 1 TD last week against the Jags.  He has a dirt cheap price.  The other RB on the depth chart, Danny Woodhead, who has been known to vulture a TD or 2 in his life, is out for the year after tearing his ACL last week.  He's got the Colts this week, who are giving up 125 rushing yards a game.  Remember, Gordon is the former Wisconsin Badger who came within 42 yards of breaking Barry Sanders FBS rushing record.  Yes, Barry Sanders.  Please sir, may I have another?  120 yards 1 TD.
LEGARRETTE BLOUNT ($4400)
I hate Thursday night games.  They are sloppy.  They are unpredictable.  Doesn't stop me from watching them, but I don't have to like it.  I hate gamers who chase last weeks' stats.  Just ignore those statements for a moment and bear with me.  Who the hell is Jacoby Brisett?  I have no idea.  You have no idea.  I know he threw something like 75 passes in 2 years at Florida.  Then he transferred to N.C. State.  To play football.  I didn't even know N.C. State had a football team.  I think I recall them having a basketball team for a hot  minute there, but football?
Hmph.  Who knew.
Drafted in the 3rd round by the evil genius, Bill Belicheck, he will probably turn him into a Hall of Famer.  But not this game.  Not against a Houston Texans defense that has J.J. Watt.  This is a Blount game all day long.  Take him at this price and then slide a Julio or a Cooks in as an uber-expensive Flex.
TIGHT END
DENNIS PITTA ($3400)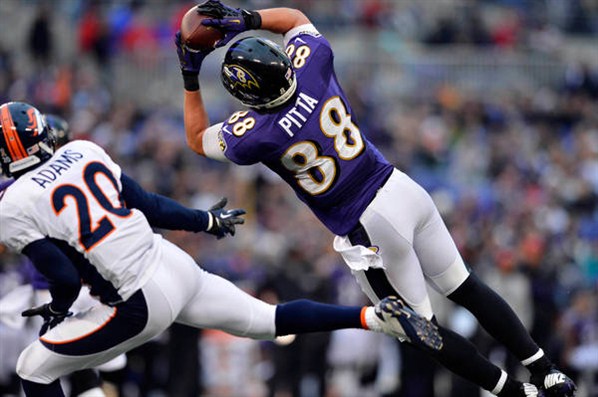 The Ravens are taking on the Jags this week and this game has some sneaky shootout potential.  Fresh off of 9 catches for 102 yards last week against the Browns, if Pitta can stay healthy, he will continue to be a force in this offense that is lacking playmakers.  Sorry, but I am not buying into the Mike Wallace hype train yet.  Dennis Pitta and Joe Flacco are best friends.  Literally.  They vacation together.  They NetFlix and chill together.  What guy doesn't like throwing TDs to his best friend?  80 yards 1 TD
KYLE RUDOLPH ($3100)
Kyle is averaging 8 targets a games this season, regardless of who is lining up under center.  He caught 3 of 8 with a TD last week against the Pack.  After losing AP for the season, The Vikings will turn to the dreaded Running Back By Committee.  Stay away from the running game. More concerning for Sam Bradford is the loss of his starting left tack, Matt Kalil, who protects his blind side.  All of these things will result in A LOT of quick dump offs to Rudolph.  And let's be honest, even without those injuries, Sam Bradford was probably just going to check down to his tight end anyway.  Rudolph will likely be seeing 10 targets a game the rest of the season.  Sign me up.  65 yards 1 TD.
All right, kiddos.  That's Week 3 for you.  Hit me up with comments or questions below, or feel free to email me at
or the Twitter  
 @phillyjoel