Weekly Fantasy Football Preview – Week 6
Updated: October 13, 2016
Photo: Brett Coomer, Houston Chronicle
Football is an amazing thing.  Week 5 proved it to the umpteenth degree.  Some nuggets from last week…
I don't even want to play Madden in Cleveland
Clipboard Jesus became the 5th QB to take snaps for the Browns this season, before he was unceremoniously released the other day with an injury settlement.  He may be terrible at the sport of football, but man is a genius at the business side of it.  We all know that they have started 26 QBs since 2000.  I am officially naming it the 'Brady Curse'.  In 2000, the Browns selected the QB Spergon Wynn, out of Southwest Texas State University.  16 SPOTS AHEAD OF TOM BRADY.  26 QBs.  4 of which were 1st rounders.  None of those 1st rounders are still in the league.  'The Brady Curse'.  Shocked it's not a thing yet.
Stay Classy, San Diego
The Chargers always find the most ridiculous ways to lose games.  Mike McCoy has to be the first HC fired this season.  The Chargers lost last week to the Raiders because they fumbled the snap on the game tying field goal attempt.  True that McCoy literally had nothing to do with that fumbled, but the fish stinks from the head down…
I still do not believe in Atlanta
Yes, I know.  They just went in to the house of the defending Super Bowl Champs and put up 23 on one of the best defenses in the NFL.  They held Julio to 2 catches.  Their defense had 6 sacks and had Broncos fans clamoring for the return of Peyton Manning Trevor Siemian.  And yet … I don't buy it.
Yes, Dan Quinn has done an amazing job making this defense formidable, just like he did in Seattle.  And now he gets to go to Seattle and show us it is legit.  Beat the 12th man this week and I will sprint to catch up to the bandwagon…
The Eagles lost and the blame is solely on the shoulders of Jim Schwartz
Taking out Nigel Bradham and Jordan Hicks and subbing in Mychal Kendricks and Stephen Tulloch in the nickel formation in the 1st half cost them the game.  Nothing else.  Mistakes are fine.  It's all in how we respond to making said mistakes.  I'm watching you Schwartz…
Enough stalling…lock the gates…week 6 beckons…
QUARTERBACKS
ALEX SMITH ($5700)  @OAK 4:05 PM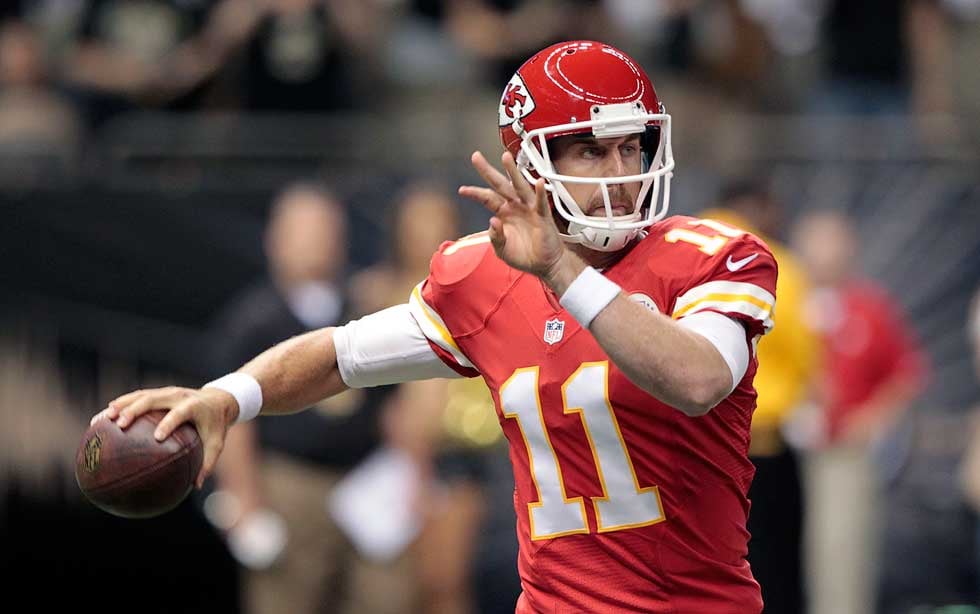 The last time we saw Mr. Smith, he was chucking it 50 times in that blowout loss to the Steelers 2 weeks ago, completing 30 of them to go along with 2 garbage time TDs.  And for those of you keeping score, garbage time points count for the same amount that competitive game points count for.  The Chiefs are coming off of the bye.  Andy Reid has been known to be pretty good out of the bye.  Alex Smith has made a career out of 2 or 3 amazing games a season, sandwiched around a bunch of adequate game manager kind of games.  The last time Smith played on the West Coast, in Week 1 against the Chargers, he threw for 363 yards and 2 TDs.  Now he gets to play the Raiders, who have the worst pass defense in the league.  Oh, and he also gets Jamaal Charles back this week too.  2 or 3 amazing games.  This is one of those games. Vegas has set the line as Even with an over/under of 47.  Hell yeah.  325 yards 2 TDs.
CARSON PALMER ($6000)  vs. NYJ 8:30 PM MNF
All signs are pointing to Carson returning to action this week after suffering a concussion in Week 4.  And just in time, too, because this week the Cards take on the Jets.  As previously noted, the Raiders have the worst pass defense in the league.  Can you guess who is next-to-last?  You got it– it's the Jets, who are giving up 302 yards a game.  And they are giving up the most yards per pass, as well, at 9.2.  Both these teams need to win this one to stay relevant.  As much as I like the pride of Temple, Todd Bowles,  Arians and Palmer have more talent at their disposal in this one.  Revis is questionable.  His injury status is questionable, and so is his status as a dependable football player.  300 yards 2 TDs
RUNNING BACKS
GIOVANI BERNARD ($4600) @NE 1PM I undoubtedly will be the recipient of many lucrative paleontology prizes because I am going to unearth some gems for you here.  Bernard's backfield running mate, Jeremy Hill re-injured his chest during last weeks' 28-14 loss to the Cowyboys.  But Bernard actually started that game.  We don't know if that is because of the injuries to Hill or not, but it is worth noting.  Even after falling behind by multiple score early on, Bernard was able to tally 50 yards rushing on 9 carries and another 46 yards receiving on 6 receptions.  And while all signs point to Hill returning this week, I'm not that sure it matters all that much.  They are playing the Pats, which will be Brady's 1st game at Foxboro this season.
The Bengals will also fall behind early in this game as well, which will essentially game plan Hill out of the equation, regardless of health.  The Pats are also really good at defending the run, giving up just 3.7 per carry and 86.4 per game, which will keep Hill off the field.  Make not mistake, Bernard's value is completely reception based.  Anything he gets running the ball is just an added bonus.  110 total yards 1 TD
LE'VEON BELL ($7900) @MIA 1PM
2 games in and the best back in the game hasn't missed a beat.  Last week against the Jets, he only was able to get 66 yards on 20 carries, but he did catch a juicy 9 balls on 11(!) targets for 88 yards. The has yet to find the end zone so far, but that ends this week.  Pretty sure Miami is the worst team in all of football.  I do know that they are dead last in rushing defense, giving up an average of 151 yards a game.   At $7900, he's the most expensive back on the board this week, but those numbers are scary.  I want some Steelers in all of my lineups this week, and coupled with the fact that Antonio Brown is going for the unheard of price of $10000 on Draftkings, this is the Bell cow I want in my lineups.  175 total yards 2 TDs
WIDE RECEIVERS
JEREMY MACLIN ($6300)  @OAK 4:05PM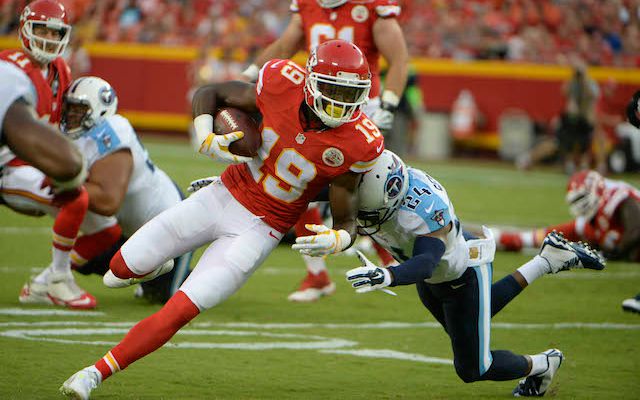 You had to know when I led off the article with Alex Smith that I was stacking him with someone, right?  The pick du jour is JMac. In 2 games against the Raiders last year, Maclin had 12 catches for 149 yards and 3 TDs.  The Chiefs need this game to keep pace in the division.  And KC has been steamrolling the AFC West, having won their last 6 games.  Andy Reid is 15-2 after the bye weeks.  And 4 out of the last 5 KC/OAK games have hit the over, which this week, as you know is 47. JMac has an insane 23 targets in road games this year.  He is actually averaging a target more this year than he was last year, (9.3/8.3).  A QB/WR stack that has a plus matchup and only costs you $12000?  You can thank me later… 115 yards 1 TD
WILL FULLER ($5900) vs. IND 8:30PM SNF
Bounce back candidate of the week.  Held to a just 1 catch on 6 targets for 4 yards in the Texans loss last week to the Vikings, Fuller gets to come home this week and gets this juicy matchup against the Colts.  Fullers home/road splits are a bit telling… HOME: 16 catches on 27 targets for 292 yards 2 TDs.  ROAD: 4 catches on 13 targets for 35 yards 0 TDs.
Yes Fuller does have 1 more home game on his resume, but come on, those stats jump off the page at you.  Dramatic home/road splits are not that uncommon for rookies.  But there is dramatic and then there is DRAMATIC.  Last week week against the Bears, the Colts gave up 9 catches on 12 targets for 130 yards and 1 TD to their #2 Wide Receiver, Cameron Meredith.  Will Fuller is a much, much better #2 wide receiver.  105 yards 1 TD
TIGHT ENDS
DELANIE WALKER ($5500) vs. CLE 1PM
I know.  I'm just as surprised as your are that it took me this long to pick a player playing against the putrid Browns.  I picked on them a lot in the beginning, so you know, the mockery is still there.  Walker finally looked healthy last week after playing through a hamstring injury the last 2 weeks.  But he was back to his old tricks last week, putting up a respectable 5 catches on 8 targets for 66 yards and 1 TD.  Mariota finally has his favorite target back, and he is running well.
This week he gets the Browns.
Last week the Brownies gave up 109 yards to Gronk.  And as if that wasn't enough, they also gave up 67 yards and 3 TDs to their other TE, Martellus Bennett.  Some quick math tells me that that is a lot of yards and a lot of TDs.  130 yards 1 TD
ROB GRONKOWSKI ($6700) vs CIN 1PM
As I already mentioned–109 yards last week on 5 catches for Gronk.  He played his season high of 65 offensive snaps last week.  The training wheels are off now that Brady is back.  I have no proof, but I think that Gronk didn't want to get healthy until Brady was back.  Bennett will not vulture 3 TDs every week.  But make no mistake boys, the 2 TE sets that made the Pats so scary a few years ago is back and back with a vengeance.  130 yards 1 TD
And that is Week 6 for you.  Go make some money on my behalf.  Again, as always, feel free to hit me up with any questions and comments you might have on Twitter
 @phillyjoel or the old fashioned email JMBurntcoverage@gmail.com.  I am also very active in season long fantasy as well, so I welcome all those questions as well.  Until next week…