Could Atlantic City and Camden Still Return to the Atlantic League?
Updated: February 16, 2017
Steve Maciejewski via Flickr
Could the New Jersey waterfront make a return to baseball on both sides of the state? It still seem like a possibility that one or both of the Atlantic City and Camden markets, could be reestablished by the 2018 season.
An original team that launched the Atlantic League, both the Surf and the AL began in 1998. That year, the Surf won the league's first Championship Series over the Bridgeport Bluefish, three games to one. The Surf made it to the post-season four times in five years (2002 and 2004–06) but were eliminated in the first round each time. Unfortunately Atlantic City, which once boasted former Phillies reliever Mitch Williams as a player/manager, left the Atlantic League after the 2006 season for the Can-Am league and folded after the 2008 season.
"The Sandcastle," or "Bernie Robbins Stadium" as it was later known, was in poor shape when the Surf were playing in it. Since then little has changed and the ballpark, due to both neglect and vandalism, has fallen into a further state of serious disrepair.
On the banks of the Delaware River, having finished celebrating their 15th anniversary the Riversharks folded at the end of the 2015 season after seemingly endless years of various financial problems at Campbell's Field.
That the league would consider returning to either market, let alone both, probably comes as a surprise to many.
"I've been on the phone with Atlantic City and made a lot of visits, and made visits this summer to CCIA representatives and spoken to lawyers in Camden to try to figure out what they want to do down there. I've made visits, and there is interest, but it's definitely not for [the 2017season]. There's interest in one or both." said Atlantic League CEO and founder Frank Boulton in an interview with mycentraljersey.com last October.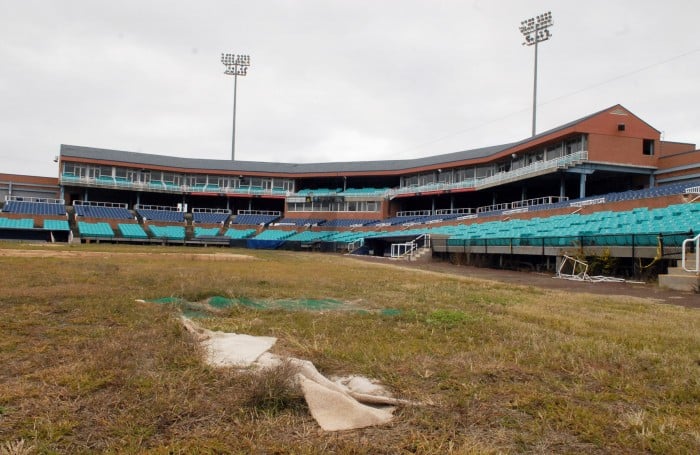 In Atlantic City, a new roof was installed at the stadium and some of the skyboxes had since been renovated, according to Boulton. Despite that, however, there is still a great deal of work remaining. Offices and locker rooms would have to be re-done, and suites would have to be virtually rebuilt. The biggest (and most expensive) hurdles are the scoreboards and stadium lights.
As for Campbell's Field…
It continues to host exhibition games as well as act as the home field for the neighboring Rutgers University baseball team. Interest has been expressed by the MLB as a possible site for a class A or short season minor league team, but that option seem to have hit a roadblock due to territory rights of the Phillies.
Why would the Atlantic League possibly return to two markets that have, for all intents and purposes, failed in the past?
For starters, most of the reasons both of the teams folded had little to do directly with fan interest. Both the Surf and Riversharks had leases with their ballparks that ended up being difficult to navigate. Both franchises also suffered from deep rooted problems stemming from both Atlantic City and Camden's government. Plainly put, both cities have been so questionably run, it's made both teams sustainability, at best, extremely difficult.
If a potential franchise can walk into a renovated facility with a fair lease, problems both markets suffered from in the past, then that team is set up pretty well to succeed. Right now, it's an interesting time that could still represent a lot of opportunity that coming out of dynamic situations in both Camden and Atlantic City.