John Angiolillo's 2017 NFL Mock Draft
The NFL Draft will be held here in Philadelphia in about a month. Since Mock Draft's are all the rage, I thought I would throw out my prediction for how the first round will play out.
1. Cleveland Browns
Myles Garrett – DE, Texas A&M
Barring a situation like last season where this pick gets dealt or if Garrett has dirty laundry aired, he's the pick here. The Browns sunk a ton of money into their offensive line, and it would make sense to use their highest pick for their front four. Garrett is a Jevon Kearse-like athletic freak that will slide in to Gregg Williams' front four and help transform their defense.
2. San Francisco 49ers
DeShaun Watson – QB, Clemson
New GM John Lynch has made some puzzling decisions so far as Niners GM. For example, paying fullback Kyle Juszcyk more than the top free agent running backs. Lynch could make another head-scratching move by taking Clemson QB DeShaun Watson. Watson's stock is at an all-time high and he possesses the best intangibles in this draft. Also, new Head Coach Kyle Shanahan has experience utilizing mobile QBs (see Griffin III, Robert).
3. Chicago Bears
Jonathan Allen – DT/DE Alabama
The Bears have had arguably one of the most up-and-down offseasons in team history. On one hand, they managed to finally free themselves of Jay Cutler, but on the other, they will now start Mike Glennon. GM Ryan Pace would do well to play it safe and take the draft's second best prospect in Jonathan Allen. Allen comes from the Haloti Ngata/Fletcher Cox mold of multi-scheme defensive lineman and would fit long-term, especially if the team abandons John Fox after this season.
4. Jacksonville Jaguars
O.J. Howard – TE, Alabama
The Jaguars have allocated a lot of draft picks and cap space for their defense, accumulating the likes of Malik Jackson, A.J. Bouye, Calais Campbell, Tashaun Gipson, Barry Church, Dante Fowler, and Jalen Ramsey the past two off seasons alone. Considering the team spent big money on Julius Thomas in 2015, it's not crazy to believe they might want to spent a high pick on one. Howard has the skill set to become the next Tony Gonzales and could help Blake Bortles reach the next level.
5. Tennessee Titans
Mike Williams – WR, Clemson
The Titans spent all offseason attempting to land a wide receiver, only to come away completely empty. While Williams doesn't have the speed of John Ross or polish of Corey Davis, he's the safest of the three receivers. Williams doesn't have the injury history of Ross and has showcased himself to scouts, which Davis hasn't been able to do. Given the Titans don't have many needs, this is the safest draft choice they could make
6. New York Jets
Marshon Lattimore – CB, Ohio State
The Jets have needs all over the ball, but they may want to stick with best player available, which at six is Ohio State cornerback Marshon Lattimore. Despite signing Morris Claiborne, the Jets shouldn't bank on him repeating his impressive 2016 season. Lattimore has the swagger of the departed Darrelle Revis and the cover skills to match. In a draft that is loaded with cornerbacks, Lattimore stands out as arguably the best one.
7. Los Angeles Chargers
Jamal Adams – S, LSU
The Chargers defense missed the leadership and playmaking ability that Eric Weddle brought them for the past decade or so. Adams is arguably the best safety in this draft and could help form one of the best secondaries in the NFL with Jahleel Addae, Casey Heyward, and Jason Verrett. While the Chargers offensive line needs a lot of work, it would be a huge reach to go offensive line at this spot.
8. Carolina Panthers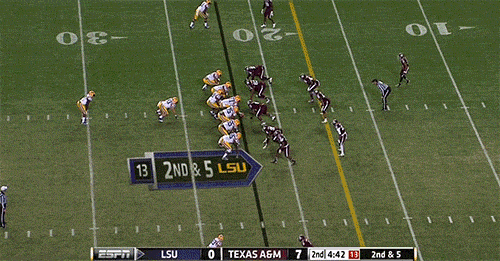 Leonard Fournette –  RB, LSU
The Panthers were victims of the Super Bowl hangover, missing the playoffs for the first time in several years. Cam Newton had a down season, while the defense missed the presence of Josh Norman, who was one of the key players in their 15-1 season two years ago. Carolina is never afraid to draft the best player available, and Fournette is in the running for the draft's top prospect. This would take a lot of pressure off Cam Newton and the passing game.
9. Cincinnati Bengals
Solomon Thomas – DE, Stanford
The Bengals' 2016 was derailed by injuries but one area they suffer at his their pass-rushing game. Outside of Carlos Dunlap, they are very weak at edge rusher. Thomas is the second-best pass-rusher available and, in most drafts, would have been gone sooner. He would also be Marvin Lewis' best defensive prospect he's had in arguably ten years.
10. Buffalo Bills
Malik Hooker – S, Ohio State
The Bills have possibly the worst safety situation in the NFL, with Philadelphia Eagle castoffs Jordan Poyer and Colt Anderson projecting to be their starters. With the depth at safety in this draft, Buffalo is likely leaning safety with the 10th pick. Hooker is a ballhawk, not unlike ex-Bill Jairus Byrd, and would give their defense a much-needed playmaker.
11. New Orleans Saints
Haason Reddick – DE/OLB, Temple
The Saints were one of the best offensive teams in the NFL last season and still managed to miss the postseason. One big reason is their porous defense, which ranked dead last in several categories. Reddick was the star of the Senior Bowl and gives New Orleans a speedy edge rusher in the style of Brandon Graham.
12. Cleveland Browns
Mitch Trubisky – QB, North Carolina
One reason the Browns finished with the NFL's worst record is that several of their quarterbacks went down with injuries. When Charlie Whitehurst has to suit up and play, your team has issues. Also, Trubisky has stated a strong desire to play for Cleveland, a rare trait for an NFL player these days.
13. Arizona Cardinals
Malik McDowell – DT, Michigan State
The Cardinals may also look at Wide Receiver here, but with the loss of Calais Campbell, the interior of their defensive line took a big hit. Campbell was arguably the best player on the Cardinals last season, and had been a pillar for their success over the past several years. McDowell possesses and incredibly high ceiling and is built a lot like the aforementioned Campbell. At 20 years old, he is also one of the draft's youngest prospects
14. Philadelphia Eagles
Derek Barnett – DE, Tennessee
The Eagles two biggest needs, cornerback and running back, happen to be the draft's biggest surplus, and it's likely they will go best player available. Barnett has been the most productive pass-rusher in the SEC and despite not having the best Combine showing, his skillset translates very well at 4-3 Defensive End. Barnett's play-style is reminiscent of former Pro Bowler Hugh Douglas.
15. Indianapolis Colts
Ryan Ramczyk – OT, Wisconsin
The Colts biggest issue over the past two seasons has been keeping Andrew Luck upright, and the former top pick has been the most battered signalcaller in the NFL. While there are some concerns on defense, Ramczyk is the only true left tackle prospect in this draft and would have gone earlier if not for hip surgery early in the year. If his hip checks out at 100%, the Colts will be running to the podium to take the former Wisconsin Badger.
16. Baltimore Ravens
John Ross – WR, Washington
Ross might be the most polarizing figure in this draft. On one hand, he possess ultra-elite speed that makes him a threat on Offense and Special Teams and scored 17 touchdowns last season. On the other, he's injury prone and has trouble fighting off press coverage due to his diminutive frame. While Ross could be labeled one-dimensional, it's hard not to salivate at the thought of Joe Flacco launching deep balls to the lightning-quick Ross.
17. Washington Redskins
Dalvin Cook – RB, Florida State
With all the drama occurring down in D.C. (in regards to the football team), it's hard to see where they might lean in terms of the draft. The Redskins run game lacks an explosive playmaker and Cook is one of the draft's home run hitters. Much like Gio Bernard, except more explosive, Cook fits very well into Jay Gruden's offense and could help Cousins become an elite quarterback.
18. Tennessee Titans
Reuben Foster – ILB, Alabama
The Titans addressed their need for a wide out earlier in the draft, and now can turn their attention to inside linebacker, where they could stand to improve. Foster is the best player on the board here, and could become the NFL's next big-time inside linebacker. It's also rumored the Titans may trade out of this pick, likely to move down and take a corner, however, it may be wiser to stay here and take the dominant Foster.
19. Tampa Bay Buccaneers
Taco Charlton – DE, Michigan
Tampa has done a nice job accruing weapons for Jameis Winston over the past couple years, but still need to improve the defensive side of the ball. Charlton doesn't have a lot of playing time at the collegiate level, but dominated last year at Michigan as a 4-3 defensive end. With his big frame and athleticism, the Bucs could look to pick him and bolster their aging D-Line.
20. Denver Broncos
Garrett Bolles – OT, Utah
The Broncos biggest issue is their offensive line, and despite signing Ronald Leary, they still need an offensive tackle, especially if they acquire injury-prone Tony Romo. Bolles is steadily rising on draft boards for his Jon Runyan-like physicality and meanness from the tackle position. Since Denver made little strides to improve offensive tackle in free agency, and the lack of quality prospects at the position, this reach doesn't seem that bad for the Broncos.
21. Detroit Lions
Corey Davis – WR, Western Michigan
Matthew Stafford had an MVP-like season despite his most consistent receiver being the 36 year-old Anquan Boldin. Marvin Jones fell off after his hot start and Golden Tate took half the season to heat up. Davis could be the best receiver in this draft, but recent injuries and concerns over his hands (16 drops in three seasons) could cause him to fall here.
22. Miami Dolphins
Marlon Humphrey – CB, Alabama
The Dolphins might have been the NFL's surprise team, making the playoffs with a young, rookie head coach in Adam Gase. The Dolphins biggest issue on defense is their secondary, and while safety would look nice hear, this is likely when the run on cornerback will begin, and Miami doesn't want to reach in round two. Humphrey had a rough National Title game, but he projects to be a number one corner at the NFL level.
23. New York Giants
Christian McCaffrey – RB, Stanford
The Giants appear to be in a "win-now" mode with Eli Manning getting up there in years. If the Giants want to win one more Super Bowl before Eli hangs it up, taking McCaffrey would be the smart pick here. The Stanford product compares a lot to former Giant-killer Brian Westbrook and would give Eli an extra weapon in the passing game.
24. Oakland Raiders
Zach Cunningham – LB, Vanderbilt
It's amazing that the Oakland Raiders have arguably the NFL's best defensive player in Khalil Mack and still were mediocre on that side of the ball. Cunningham was a playmaker at Vanderbilt and was All-SEC. He could play 4-3 outside linebacker and 3-4 inside linebacker. Cunningham could help the Raiders defense become elite in 2017, and with a healthy Derek Carr could give New England a run for their money.
25. Houston Texans
TreDavious White – CB, LSU
The Texans lost A.J. Bouye to rival Jacksonville and suddenly the cornerback position is looking thin. Jonathan Joseph is near the end of his career, and Kareem Jackson, while solid, isn't an elite corner. White is another quality secondary prospect from LSU, and gives Houston a solid replacement for the departed Bouye.
26. Seattle Seahawks
Cam Robinson – OT, Alabama
The Seahawks defense still remains elite and Russell Wilson and co. have an unheralded group of weapons. However, their offensive line is porous at best and Wilson was getting banged up all season. Robinson is an incredibly talented lineman who projects at either tackle or guard (positions Seattle desperately needs help at.) Robinson comes with character concerns, but GM John Schneider hasn't let that affect his team (see Clark, Frank).
27. Kansas City Chiefs
Charles Harris – DE, Missouri
The Chiefs don't have a lot of holes (unless you count Alex Smith as one) and Andy Reid teams always love loading up on the defensive line in the first round. Tamba Hali is getting up in years and Dee Ford hasn't really lived up to being a first rounder. Harris is falling to end of the first round due to playing at a higher weight last year, but has the potential to be a 10+sack-a-season player.
28. Dallas Cowboys
Jabrill Peppers – OLB/SS, Michigan
The Cowboys lost ¾ of their starting secondary in free agency, including the underrated Barry Church. Peppers would be an ideal fit for Rod Marinelli's Tampa 2 scheme because he can drop back in coverage and play up, like a linebacker, and shut down the run. However, the reason the accomplished Peppers falls late is due to his over aggressiveness and the lack of turnovers he created in college (one INT and one forced fumble).
29. Green Bay Packers
Fabian Moreau – CB, UCLA
The Packers secondary, namely their cornerbacks, got completely exposed by Atlanta in the NFC Title game. Even worse, their best cornerback, Micah Hyde, left in free agency. Moreau is a physically gifted corner with all the tools to be great. Also, the former Bruin loves to get after the ball and make plays, much like current Chief Marcus Peters.
30. Pittsburgh Steelers
T.J. Watt – OLB, Wisconsin
Some people feel the Steelers need to think about Ben Roethlisberger's replacement, but James Harrison, who's nearing 40, requires more immediate attention. Watt has the tenacity of Steeler legends such as Kevin Greene, Joey Porter, and the before-mentioned Harrison. One concern here: Watt has a history of injuries during his college career.
31. Atlanta Falcons
David Njoku – TE, Miami
Matt Ryan and Atlanta possess arguably the best offense in the NFL, but their biggest weakness is tight end, where the quality takes a sharp dip compared to the rest of the offense. Njoku is an incredibly gifted athlete who has the frame of fellow alum Jimmy Graham. Couple his size with his insane leaping ability, and Atlanta could have their next elite tight end since Tony Gonzales.
32. New Orleans Saints
Cordrea Tankersley – CB, Clemson
The Saints made it no secret they want to improve their defense in trade negotiations for Brandin Cooks and after snagging Rueben Foster with their top pick, it makes sense they go after Clemson's Cordrea Tankersley. One of the most physically-imposing corners in this draft, Tankersley is possibly the best press corner available. With Kelvin Benjamin, Julio Jones, and Mike Evans (all bigger receivers) in their division, Tankersley could be the perfect counter-weapon.