Explosion Erupted Near Borussia Dortmund Team's Bus
We soccer fans all know the saying "you'll never walk alone," and yesterday the French fans stuck in Germany got to experience it.
USMNT's Christian Pulisic and the Borussia Dortmund, BVB, team was on their way to their home stadium, Signal Idun Park, for a Champions League quarter-final match against France's AS Monaco FC when an explosion erupted near the team's bus. The explosion postponed the match until the day today (Wednesday, April 12th, 2017).
The only person hurt from the incident was Spanish defender, Marc Bartra. The bus was shaken and the windows broke sending glass into Bartra's hand. He was then rushed to the hospital for hand surgery and is expected to make a full recovery.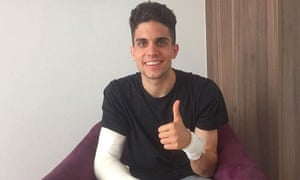 #bedforawayfans then began to trend all over the city of Dortmund for AS Monaco fans who had no place to stay, due to the match being canceled. BVB fans opened their homes for the opposing team fans just as AS Monaco fans, who were already at Signal Iduna Park already, began to chant "you'll never walk alone" to let the city of Dortmund know that they are there for them too.
For you not to know how scary and mean the world can be must mean that you live under a rock. A lot of tragedy had been happening more frequently and people just usually just tweet out about sending their prayers to said country but German soccer fans have taken helping others to a new level by allowing stranded strangers, who love the game they love too, to their home.
Let us all remember that this more than just a game. It's the most popular sport in the world and that causes a bond that connects us all from around the globe. So, you a soccer fan must know just because soccer isn't the biggest sport here in the U.S, you too will never walk alone.